The vision
We are imagining and conceiving a revolution in the structure of knowledge: an integral transformation of thousands or millions of semi-independent conceptual fragments, into a single unified and self-contained wholeness defined as a comprehensively inclusive spectrum.
In our framework, this spectrum is defined as the linear hierarchical decomposition of unity (the "unit interval") taking a form on which all intellectual structure and description can be mapped, with unbounded infinity at the top and the infinitesimal or continuum (infinitely bounded) at the bottom.
This model then becomes a sealed integral unit when it is folded into the form of a Moebius Strip, a topological form which has only one boundary or edge or side, and which, under this twist of the unit interval, maps the infinite unbounded into the infinitesimal and continuous as a single straight line. All notions of larger and smaller disappear, and become only relative and "locally meaningful".
We show this process in the animated graphic at the upper right of the screen.
Today, we are living in a world of "silos" and specializations that are marginally consistent with one another. Too often today the right hand does not work well with the left hand. But we are proposing that this fragmentation is largely the fruit of the independent historical evolution of these elements, which today are gradually coming into closer and closer relationships. Where is the boundary of one discipline and the beginning of another? Are these boundaries more than habitual cultural artifacts? Are the deep levels of human intuition simply inscrutable to the close examination of quantitative methods and science?
We are saying "no" to these traditional and highly limiting assumptions. We are proposing that the traditionally independent elements and departments of knowledge can be fused into unity, through a common language and are seeing universal principles underlying all forms of categorization and conceptualization. We are proposing new and universal principles of measurement capable of spanning the traditional divisions (quantitative/qualitative). We are envisioning an integral form of knowledge as an essential step in the evolution of civilization and are exploring these ideas as a possible foundation for a new civilization based on wholeness and deeply shared universal principles.
Introduction
This project combines deep universal mysticism with an interpretation of the classical foundations of mathematics. It is grounded in the best university-grade technical literature available, and is offered here as an opening into what seems to be a significant advance in holistic philosophy and psychology.
Closed Loop Ontology is indeed aimed at something unprecedented. But the power and breadth of its ambition and scope of inclusion does have precedent in the history of philosophy, and an example might be the "Mathesis Universalis" of Leibnitz, or in ancient explorations of the concept of "Monad".
This emerging new idea proposes that all ideas and "concepts" emerge from an enduring eternal "one" or "oneness" that is the ground of being and underlying invariant framework of all of existence and any potential for human knowledge or understanding. This idea is found in many sources, including Plotinus.
The power of this idea flows from the way this underlying framework is conceived, and depends on the notion that this relatively simple but bewitchingly tricky framework can be legitimately interpreted as containing all possible conceptual differentiations within the scope of its "bounded intervals". The notion of bounded interval begins with the unit interval - bounded between 0 and 1 on a straight line (the X axis) - and then unfolds from there as a cascade into infinite differentiations approaching the continuum, as the interval is cut up into smaller and smaller pieces. All these intervals, regardless of their "length" take exactly the same form. This model is absolutely linear and absolutely recursive ("self-similar" - like a fractal).
These ideas are fundamental to the traditional "foundations of mathematics", including ideas like "Real Numbers" and the "Dedekind Cut". We are working carefully with these same ideas - but we are blowing open some of the mysteries of the so-called "straight line". Traditional mathematical methods depend on an implict basis in Euclidean geometry - where it is presumed that it makes sense that "a line has no thickness". How can you define a "real number" on a line that can't actually exist? We say the foundational line does indeed have "thickness" -- which we can define in terms of "two edges". In our model, the upper and lower edges of the line are also boundary values, within which is contained "everything" that the mind can conceive.
The entire structure of our Closed Loop can be understood as an interpretation of the concept of "unit interval" - which is normally understood as a line segment of unit ("1") length. In the closed loop model, this segment is differentiated into parts, like decimal numbers - or in a simpler model, into binary numbers - which creates a "hierarchy" of multiple levels that extend from a unit at the top of the hierarchical cascade to any number of subsequent differentiations terminating in the infinitesimal and the principle of the continuum.
The closed loop model is extremely (or absolutely) ambitious. It's an attempt to generalize every form and type of concept - deriving them all from the same underlying process of differentiation, which cuts up the all-containing unit at the top of the cascade into every possible categorical combination - including not only numbers, but all elements (names, descriptions, measurements) that might appear in any sort of taxonomy.
Implied by this ambition are
A systematic and universal theory of word semantics and word meaning - one model of word meaning that can interpret any language
A common framework that holds all language and conceptual form in a universal framework that can adapt to any particular language
The topology of categories
Topology is a branch of mathematics concerned with the properties of a geometric object that are preserved under continuous deformations, such as stretching, twisting, crumpling and bending.
https://en.wikipedia.org/wiki/Topology
This project presents a general theory of concepts and categories defined in geometrical and topological form. It presents a series of graphical models, such as the taxonomy of all mammals, which is commonly shown in graphical form.
The power of this approach depends on a simple topological deformations of basic common-sense or "3D" ways to understand categories.
Basics
"Closed loop interval ontology" is a universal model of the structure of concepts defined on a hierarchical spectrum of levels.
This spectrum takes the same form as a common measurement ruler, and enables us to define levels of abstraction ranging from empirical/quantitative to holistic/qualitative on a single consistent framework. This creates a continuous bridge across all levels of thinking and all academic and scientific disciplines.
This universal form can be defined on a "strip". This strip can be twisted to form a closed loop.
This opens the way to integrating all concepts into a single integral "master concept" that contains and organizes them all.
The process is grounded in a primal oneness and wholeness found in many world religions and spiritual traditions, ancient and modern.
This approach is entirely consistent with the foundations of science and mathematics and the great classical religions of the world. This framework enables a strong and unambiguous linkage between science and religion as an unbroken spectrum of levels.
The one
This project follows great classical precedents in philosophy, and grounds the derivation of all concepts and ideas in a primal "ground of being" which we call "one". It is similar to projects grounded in the concept of "monad".
Our definition of "one" is mathematical and based on the "unit interval", and is consistent with the foundational concepts of traditional working mathematics.
This framework is universal, and enables us to connect quantitative and qualitative conceptual forms in one consistent multi-level system of measurement, which enables smooth connection between empiricism and holism - or, intuitive terms, between science and religion.
The epistemology of concepts
Reality is understood by human beings in terms of concepts.
Concepts are like a map - an abstract symbolic representation of something in reality to which we are assigning a description and possibly a name (a word).
We are proposing that it is technically possible and mathematically correct to define "all possible concepts" on a single algebraic framework.
This single framework is intended to interconnect "all possible concepts" within a single "master concept" that contains them all.
This idea is proposed as the path unity in human understanding
Boundary and interval
This project is about boundaries and how every form or shape or category in existence is defined by a boundary, in form of a minimum and maximum value
An interval is the space between boundaries
"The awesome hypothesis"
We propose that this general form maps all forms of measurement and defines all categories in a series of hierarchical levels
The range from A to B (X axis) is an unbounded interval and represents the infinite
The range from C to D (X axis) is the lowest possible level of differentiation approaching the continuum and represents the infinitesimal
The range from A to C and B to D (Y axis) represents the hierarchy of levels (increasing levels of abstraction or generality)

The closed loop
This master framework takes the form of a "closed loop" - a circle closed on itself to form a closed/sealed unit.
This closed loop is not defined on a single line - though it can be understood that way - but instead, on a "strip" that takes a hierarchical form.
This framework defines and universalizes the process of "abstraction" -- or the process of creating generalizations -- like the concept of "tree" which is a generalization/abstraction based on the example of many trees.
After we understand that all conceptual form can be mapped on this "strip", we then seal this framework by subjecting it to a topological twist, forming it into the "single sided single-edge" topological object known as a "Moebius Strip".
This twist creates an astonishing integral effect that seems beyond human conceptual power, and locks the entire range of human thinking - including major sectors like science, mathematics and religion - into a single closed all-containing infinite form - where every part or level or layer can be smoothly mapped into any other, creating a comprehensive interdisciplinary and intercultural/inter-language model of reality and knowledge and language.




What is a concept?
From https://en.wikipedia.org/wiki/Concept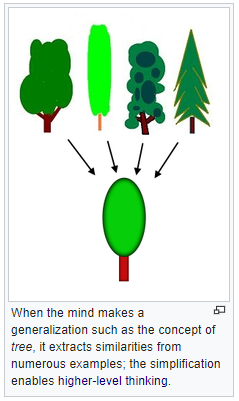 "Concepts are defined as abstract ideas or general notions that occur in the mind, in speech, or in thought. They are understood to be the fundamental building blocks of thoughts and beliefs. They play an important role in all aspects of cognition. As such, concepts are studied by several disciplines, such as linguistics, psychology, and philosophy, and these disciplines are interested in the logical and psychological structure of concepts, and how they are put together to form thoughts and sentences. The study of concepts has served as an important flagship of an emerging interdisciplinary approach called cognitive science.
"Concepts can be organized into a hierarchy, higher levels of which are termed "superordinate" and lower levels termed "subordinate". Additionally, there is the "basic" or "middle" level at which people will most readily categorize a concept. For example, a basic-level concept would be "chair", with its superordinate, "furniture", and its subordinate, "easy chair".
"When the mind makes a generalization such as the concept of tree, it extracts similarities from numerous examples; the simplification enables higher-level thinking. A concept is instantiated (reified) by all of its actual or potential instances, whether these are things in the real world or other ideas.
"Concepts are studied as components of human cognition in the cognitive science disciplines of linguistics, psychology and, philosophy, where an ongoing debate asks whether all cognition must occur through concepts. Concepts are used as formal tools or models in mathematics, computer science, databases and artificial intelligence where they are sometimes called classes, schema or categories. In informal use the word concept often just means any idea."
Examples of concepts: number, numbers, measurement, measurements, names, labels, units, sizes, colors, structures, properties, attributes, characteristics
Also see https://plato.stanford.edu/entries/concepts/
"Concepts are the building blocks of thoughts. Consequently, they are crucial to such psychological processes as categorization, inference, memory, learning, and decision-making. This much is relatively uncontroversial. But the nature of concepts—the kind of things concepts are—and the constraints that govern a theory of concepts have been the subject of much debate (Margolis & Laurence 1999, Margolis & Laurence 2015). This is due, at least in part, to the fact that disputes about concepts often reflect deeply opposing approaches to the study of the mind, to language, and even to philosophy itself. In this entry, we provide an overview of theories of concepts, and outline some of the disputes that have shaped debates surrounding the nature of concepts. The entry is organized around five significant issues that are focal points for many theories of concepts. Not every theory of concepts takes a stand on each of the five, but viewed collectively these issues show why the theory of concepts has been such a rich and lively topic in recent years. The five issues are: (1) the ontology of concepts, (2) the structure of concepts, (3) empiricism and nativism about concepts, (4) concepts and natural language, and (5) concepts and conceptual analysis."
Types of concepts
Hierarchical graphics